Holly Pelton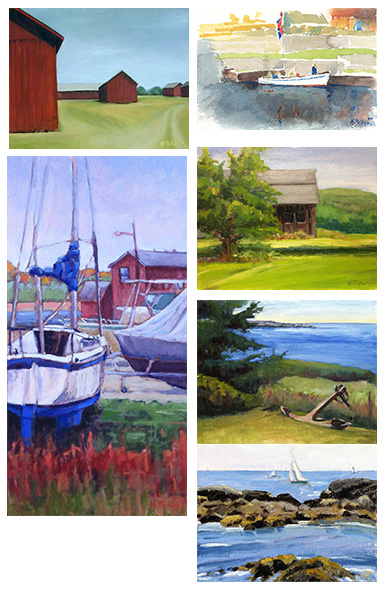 About the Artist
Holly Pelton is a gifted artist whose work encompasses the worlds of fine art and graphic design. She is represented by the Cove Gallery in Ogunquit, ME, and has exhibited in galleries and juried shows including: the Connecticut Academy of Fine Arts, West Hartford Art League, Farmington Valley Arts Center, Glastonbury Art Show, and the Windsor Art Center. Holly is also a member of the Connecticut Plein Air Society and the Women Artists Collective. She graduated with a Bachelor of Science degree in studio art with a graphic design major from Southern Connecticut State University in 1989.
Dedicated to and inspired by plein air painting, Holly also teaches studio classes, day and week-long workshops for outdoor painting in both Connecticut and Maine. You can find Holly at the Hayrake Studios in Windsor, home to a family studio, gallery and class-room.
Holly has a deep appreciation for and commitment to the arts. Born and raised in Windsor, Connecticut, she is a founding member of two community art endeavors – the former Huntington House Museum and the Windsor Art Center. Holly' s innate artistic sensibility and natural collaborative style are the basis for her success as a graphic designer, painter and teacher.